Excellent guest accommodations and vacation rentals are available overlooking the marina. Visa and MasterCard accepted.
The Morse Cottage at Essex Marina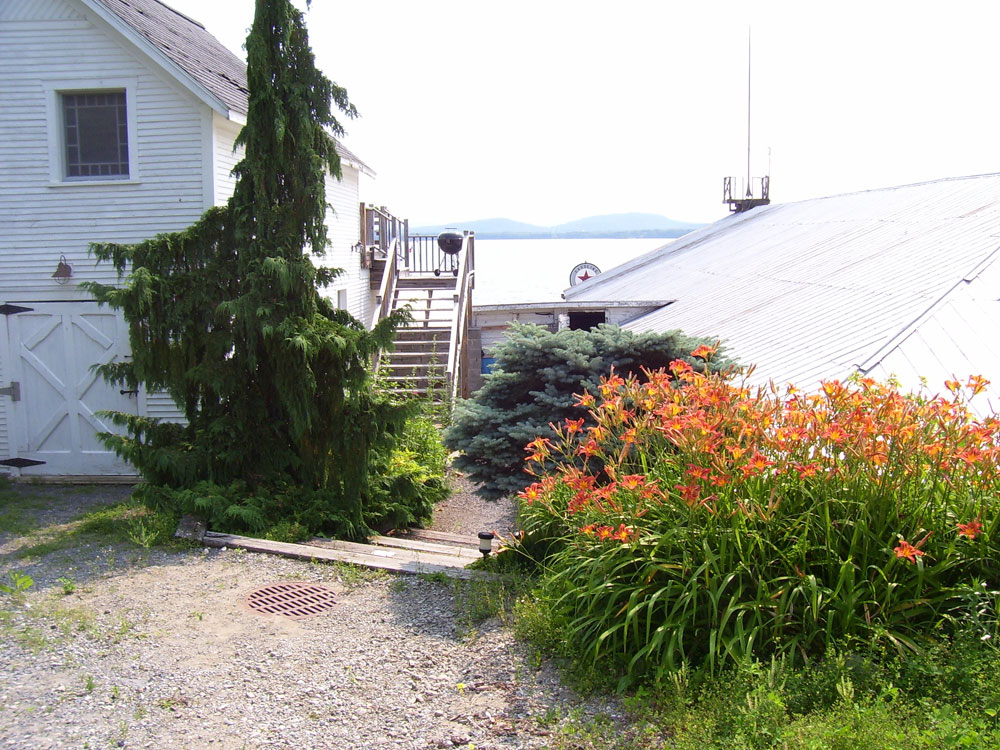 The Morse Cottage is a charming lakeside house with stained glass windows overlooking the Essex Marina.
The second floor is a furnished and air-conditioned one bedroom apartment with a loft that can accommodate 2 to 4 people. It has a living/dining room, kitchen and bathroom with a shower. There is also a lakeside deck with beautiful views of the lake and the ferry crossing.
The first floor is a furnished efficiency apartment that has a private bathroom with a shower. There are beautiful views of the lake through the stained glass windows facing the mountains of Vermont to the east.
The Edwards Brick Store
The unique two story brick building was built in the 1930's and is located on the corner of Main Street and School Street across the from the "Essex Marina" and the "Essex Garage."
The building was originally a "haberdashery" (men's clothing store), then the village liquor store and finally several short lived retail shops. Most recently it served as a residence for marina employees and is now furnished with antiques and rented on a seasonal basis.
The first floor (a great party/gathering space), is a combination living room with a wood stove, dining room and kitchen with a breakfast island. The bathroom with a shower, is also located on the first floor. There is a large storage area with outside access for bicycles, etc. The air-conditioned second floor is a large room with a divider wall that seperates the space into a large bedroom with a queen sized bed and another area that can be used as a sitting room or additional bedroom with a full sized bed and fold out couch. The house can sleep up to six guests. There is a view of the lake and the ferry crossing through the french doors of the front bedroom.